"GADIP's aim is to create a forum for researchers, practitioners and activists to meet and engage in dialogue concerning gender and development issues in Sweden as well as internationally."
planned seminars and workshops
Webinar: Swedish women in focus: gendered effects of COVID-19 pandemic
A webinar presenting GADIP's report on gendered effects on the health workforce in Sweden, written by Malva Staaf, under the supervision of Ulla Björnberg.
Webinar: Muslim women, feminism, religion, marginalization
A webinar regarding the Muslim women's challenge
A webinar regarding the Latin American feminism achievements, conservative backlashes on gender issues, activism and current challenges, with focus on Argentina, Brazil and México.
The panelists are the researchers, specialists, feminists and activists Maria Eugenia Romero Contreras, from Gender Equity, Citizenship, Work and Family, and of the Network for Sexual and Reproductive Rights in Mexico (DDESER (México); Professor Graciela Di Marco, from the University of San Martin, Argentina, known internationally for her research within gender issues; Professor and writer Cristina Wolff and the researcher journalist Morgani Guzzo, both from the Federal University of Santa Catarina, in Brazil.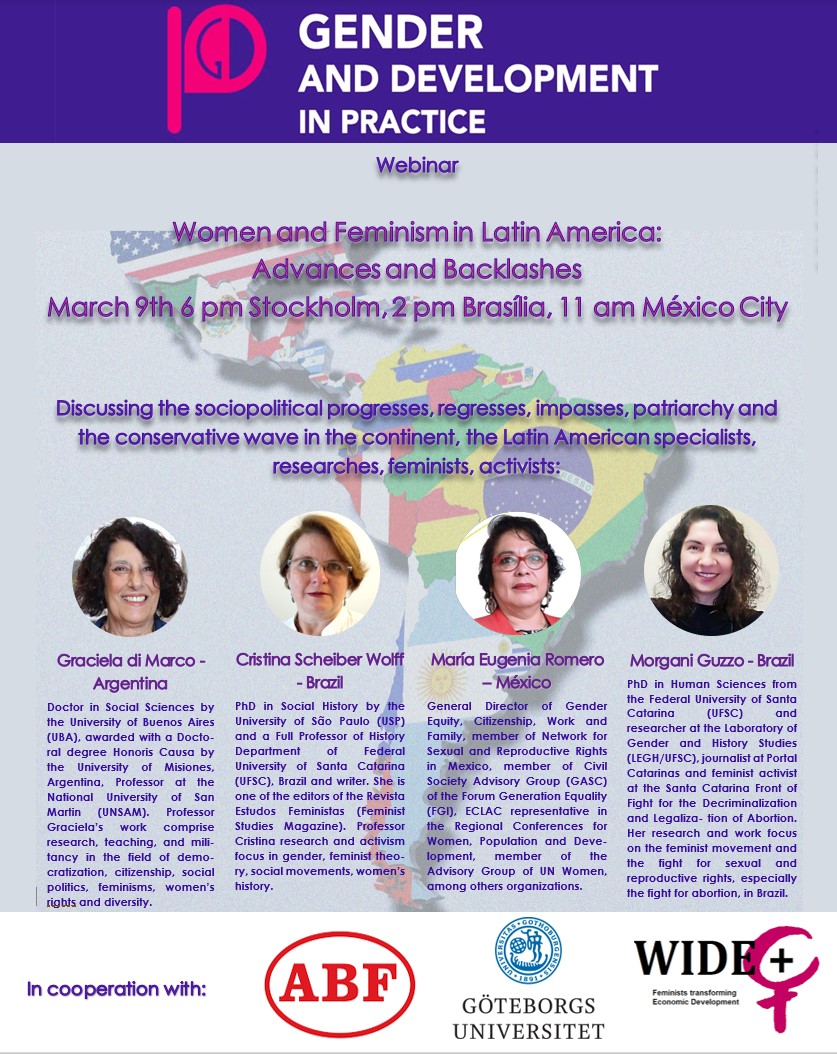 Webinar regarding traditions and gender issues faced by activists and feminists Latin American Indigenous women. With the panelists, militants and academics Norma Don Juan, from the Ciudad de México, member of the Nahua indigenous people, and Jaqueline Kambiwá, from Brazil, member-representative of the Kambiwá's Youth People.
Dr. Edmé Domínguez Reyes är docent i freds- och utvecklingsforskning med inriktning mot Latinamerikastudier och genusfrågor vid institutionen för Globala studier, Göteborgs universitet. I samarbete med Solidaritet med Ayotzinapa - Sverige och ABF Malmö. Tryck på länken i rubriken för att titta.
In this webinar, leaders from the women's movements in Poland reflect on strike as a powerful feminist strategy and as an example for other women's rights defenders on political mobilization. Arranged by WIDE+ in collaboration with Bunt Kobiet. To view the recorded webinar, click the link above.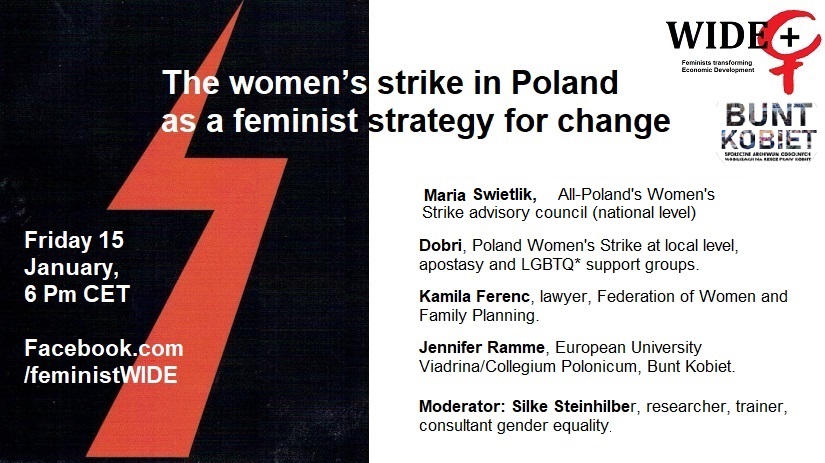 Three Mexican activists speak about their experiences and the situation regarding gender-based violence, as well as the enormous wave of feminist protests in the country. The speakers are Norma Don Juan, Mujeres Indígenas de México, CONAMI; Maru Romero and Gady Dircio, both from the Equidad de Género, Ciudadanía, Trabajo y Familia A.C. Click the link above to view the recorded webinar.
On Saturday 14 November 2020, Soundino Music arranged its 9th concert, in collaboration with the collective Solidaridad con Ayotzinapa Suecia. The aim of the concert is to raise money for the feminist collective Frente Nacional para la Sororidad de las Defensoras Digitales, working to promote digital culture from a gender perspective. To watch it, please click the link above.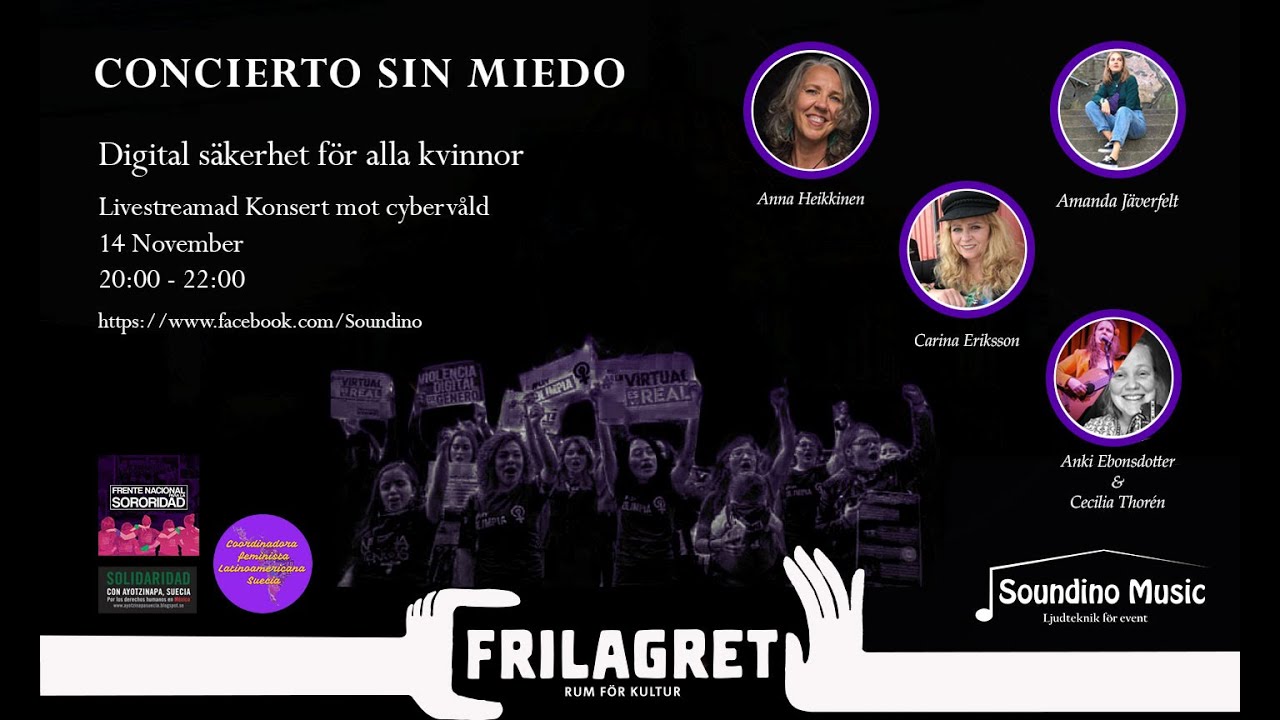 Latinamerika i fokus arranged a replica of Elina Chauvet's work Zapatos Rojos Arte Público (Ciudad Juárez, Mexico, 2009), which has been exhibited in several places around the world. The installation aims at making gender-based violence, and in particular femicide, visible. To view the installation, click the link above.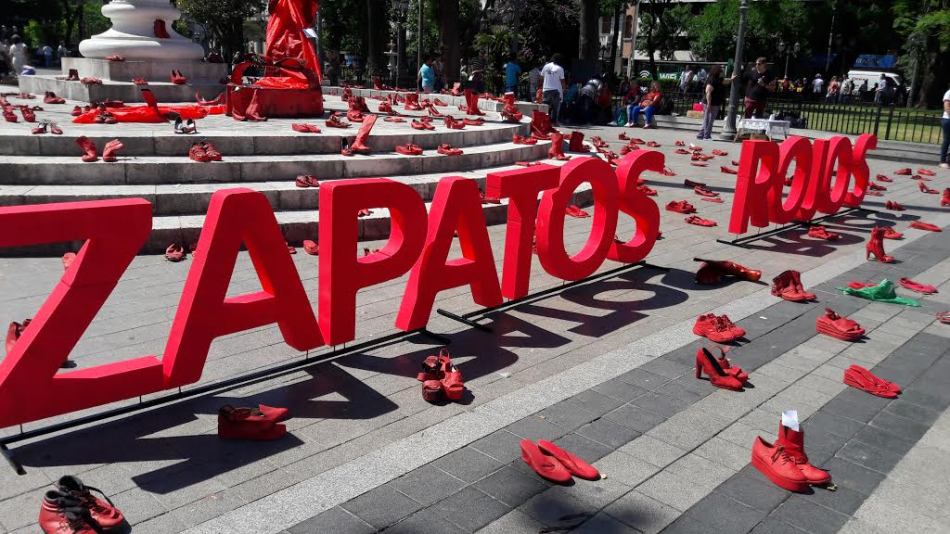 Despite a growing acceptance regarding the importance of incorporating women's economic empowerment and gender into international trade policymaking, the perspectives of feminist women, men and other gender identities on current trade policy are rarely heard. This session, organized by WIDE+ Gender and Trade Working group, highlights the voices of feminist scholars and activists, linking the micro experiences at grassroots level with the overarching macro-economic developments that international trade policies are driving. Click the link above to be directed to the session.
This statement has collected 500 signatures from organizations and academics from 87 countries. The undersigned, including GADIP, call on the IMF to immediately stop promoting austerity around the world, and instead advocate policies that advance gender justice, reduce inequality, and decisively put people and planet first. To read the full statement, click on the link above.
This WIDE publication discusses issues around gender and migration in Europe, with a special focus on challenges in Spain, Austria, Poland, Belgium and Sweden. It is the result of a two years project, supported by the Erasmus+ programme of the European Union, and it is meant to serve as a resource for adult educators and interested public.